The panic attack is taking place as a sudden increase in anxiety and fear. It can appear out of the blue, no matter where you are, and during it, your heart beats you with power, and you feel fear. You can think that you have a heart attack and that you will collapse. 
In a situation where you're your safety is in danger, changes that give you the energy you need to face a threat or to flee from its path quickly, are simultaneously spent in the body. During a panic attack, your body goes on alert without there being a real danger.
The symptoms of a panic attack are not dangerous, but they can be very frightening. The few minutes (between 5 and 30 more precisely, because both lasts on average this much) may seem an eternity. But remember the amount of anxiety and fears caused by the panic attack passes.
It's essential to realize what's happening to you. It could be the first step in the panic fight that seems to be putting a fast grasp on you. But for this to happen, you need to understand what's going on in your body. Is when the panic you feel is gaining astronomical proportions.
What exactly happens during a panic attack?
Even if the danger is not real, the symptoms are. It is essential to realize that there is no real threat, so you can start to manage the symptoms of a panic attack more easily. It is not going to happen overnight, but with specialized help, you can succeed.
How can you deal more easily with a panic attack?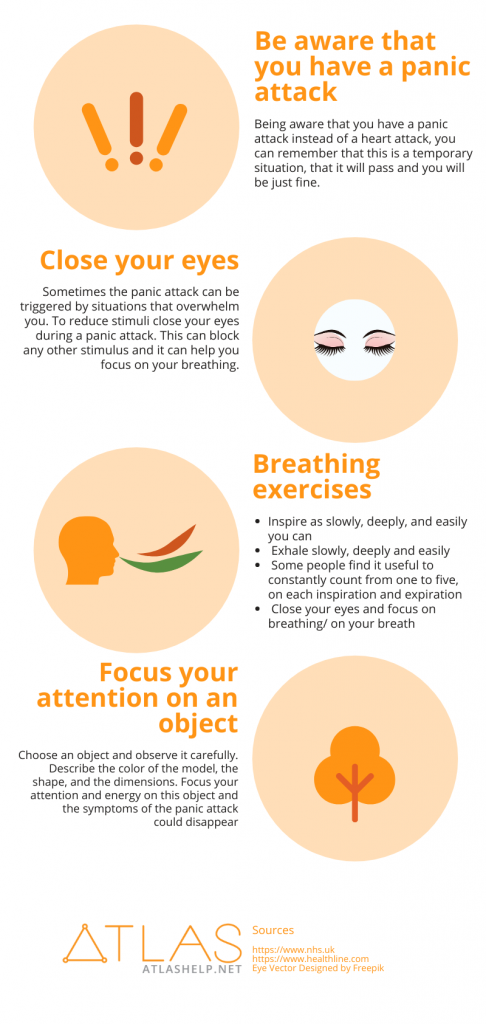 If you are presenting the symptoms of a panic attack, seek specialized help as soon as possible. You can learn to deal with panic attack symptoms and not let the panic take over you. With the help of therapy, we identify negative thinking patterns that feed your panic attacks and exchange them.
In the ATLAS community, more than 200 licensed specialists are ready to listen to you. Schedule a meeting now.
Team ATLAS, on your excellent condition!
If you don't know who to talk to, book a free orientation session with the ATLAS team. The important thing is that you find a comfortable alternative to problems that don't give you peace.