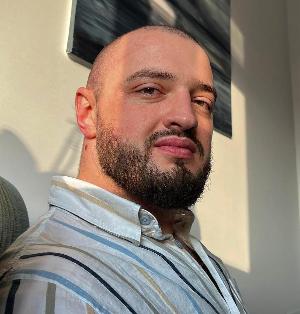 We can talk about
Your wellbeing goals, challenges, problems, symptoms, disorders or conditions or how to be feel better. My main specialization is:
I can also help you with
Psychological disorders associated with somatic diseases
---
About me
Salut! 👋🏻
Eu sunt Romeo! Sunt psihoterapeut.
Mă ocup cu asta fiindcă găsesc sens aici! Simt că a crește, a înțelege, a învăța să rămân calm și a deveni o persoană blândă cu mine și cu cei cu care interacționez sunt dintre aspectele la care e nevoie să lucrăm constant.  Să ajut oamenii cu care lucrez să să-și îndeplinească obiectivele personale e ceva ce mă împlinește iar pentru asta sunt aici.
Pe acest drum al cunoașterii de sine, bineînțeles că psihoterapia nu este unica soluție. Muzica, pictura, artele în general, călătoria, animalele... Toate acestea ne pot învăța multe despre noi. Sunt sigur că faci tot ce poți mai bine pentru viața ta! Scrie-mi dacă simți că o conversație cu cineva ți-ar prinde mai bine decât tăcerea.
Îți las mai jos câteva dintre platformele pe care sunt prezent pentru a afla mai multe despre felul în care gândesc. Aștept să ne conectăm! 
Instagram: https://www.instagram.com/mr.cherciu/
Facebook: https://www.facebook.com/profile.php?id=100090279185875
Linkedin: https://www.linkedin.com/in/romeo-cherciu-858591290/
---
Education
Facultatea de Psihologie - UB
---
Ready to get started?
Access your Hilio account and start your journey.